For as long as I can remember, I have camped with the usual tents that you place on the ground. I am not the outdoor type, just found myself stuck with a group of friends that enjoy camping and outdoor festivals. I am rather the type that prefers staying in a hotel bed. However, because I love them, I've adapted to sleeping uncomfortably and waking up with insects in my hair or in the cold. Even so, such inconveniences appear minor, now that I have acquired so many unforgettable experiences during the time spent camping, that I've come to cherish the negative experiences more than the positive ones.
In few lines, I'd like to talk about the moment when I bought my first truck tent. Though it didn't make me love the outdoors, it definitely made an improvement in my mood while camping. Although I knew truck tents were available on the market, I have only recently bought my truck, without which the tent would have been useless. Nevertheless, there I was, in the eve of yet another camping trip, when somebody gave me the brilliant idea of acquiring a truck tent, since I was now the proud owner of a pickup truck. It wasn't easy to find a suitable tent, as my truck was an older model, but, finally I found a tent that perfectly fitted in the back of my vehicle.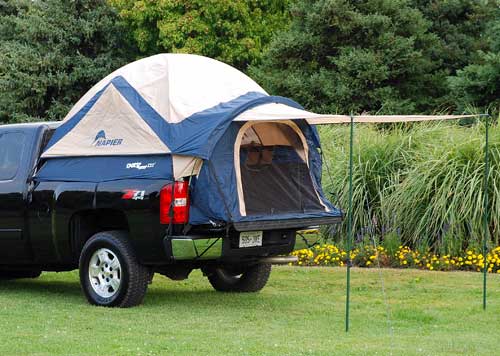 The tent that I chose is slightly less roomy than those you place on the ground, it can only accommodate two people, but that was enough at that moment, since I needed it for me and another friend. Upon purchase, I was also advised to include a mattress to fit it inside (I pondered that if I'm planning to sleep comfortably, I might as well do all that I can to secure that). However, if you have a more spacious truck you can find a tent that matches its dimension and, thus offer you more space.
The trip followed two days after buying the tent. There was a bit of a hassle on how to install it and we did get it wrong three times even with the instructions manual. However, once you get used to the process, you notice that it is not hard, nor is it much more different from setting up a normal tent. All our efforts were worth it in the end. We slept wonderfully that night especially since we bought also an amazing truck tent mattress! Just knowing that insects were at a safe distance from me and that there was something else separating me from the cold ground made me feel so much more at ease.
Plus, it was so much warmer during the night, due to the mattress and the truck's bed and I felt protected by the walls of the vehicle surrounding the tent from three sides. I found it more resistant and easy to install than a normal tent (that is of course, after I've learnt to master the installation process). During the following trips I was also proven that this the tent resists strong winds better.
Since then, although I wouldn't say I have become a great camper, I am more peaceful at the thought of sleeping under the stars than I was before.